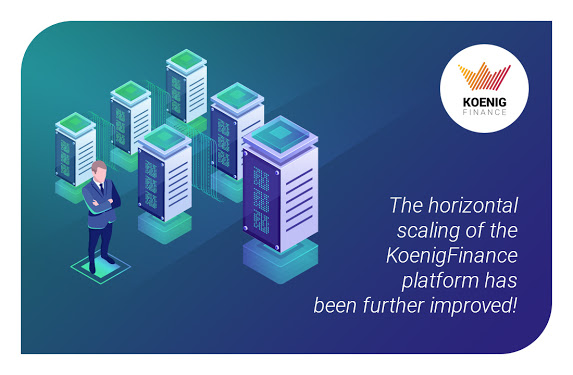 Do you pay attention to the scalability of the system when choosing a developer for your new project? We often hear customers asking "Why do I need this?"
Let's figure it out.
Scalability is the possibility to increase project productivity by adding new servers to the data center and load balancing between servers.
It seems that now you do not need to think about it.
But your business will certainly grow. The number of users, operations and requests will increase. And when your server is loaded as much as possible, you will have to think about the scalability of your system.
But this feature should be built into the solution architecture initially, and you should pay attention to it at the outset of the project.
The KoenigFinance platform has been developed to scale easily both horizontally and vertically. Our solution supports even loading of servers and the ability to connect additional servers, as well as the distribution of data across different database servers. This ensures high system performance and at the same time does not reduce its stability.
Scaling out KoenigFinance will allow you to distribute the load across multiple servers, and then increase their number as your project grows.